DIY
Halloween portrait photography and image editing
28th October 2022
5 minute read
The month of October, and especially Halloween, is one of the most exciting times for photographers all around the world. Besides the seasons blending into each other in millions of bright colors, the amber light of the golden hour, we have witches, jack-o-lanterns, and zombies walking around the streets.
But Halloween is more than eating candy and picking up a spooky costume. It can be a great chance to get creative and have fun while taking fantastic photographs.
This article will present some ideas for creating a spooky atmosphere in your portrait photography for a successful Halloween image. Whether you want a whimsical fairytale mood or a spooky horror vibe, the location, composition, props, and image editing tools will help you, nevertheless.
1. Find the perfect location for your Halloween Image
Depending on the theme and atmosphere you are after, you can look for an abandoned building, a pumpkin patch, a dark forest, a cemetery, or even a photo studio. Cloudy and gloomy weather is also great for shooting Halloween images if you are spontaneous enough to get the best of it.
Look for trees with yellow, orange, or red shades, play with leaves and branches, find some excellent mushrooms, or go to your neighbor's backyard. It is essential to keep an eye open to your surroundings, and you will find some interesting compositions.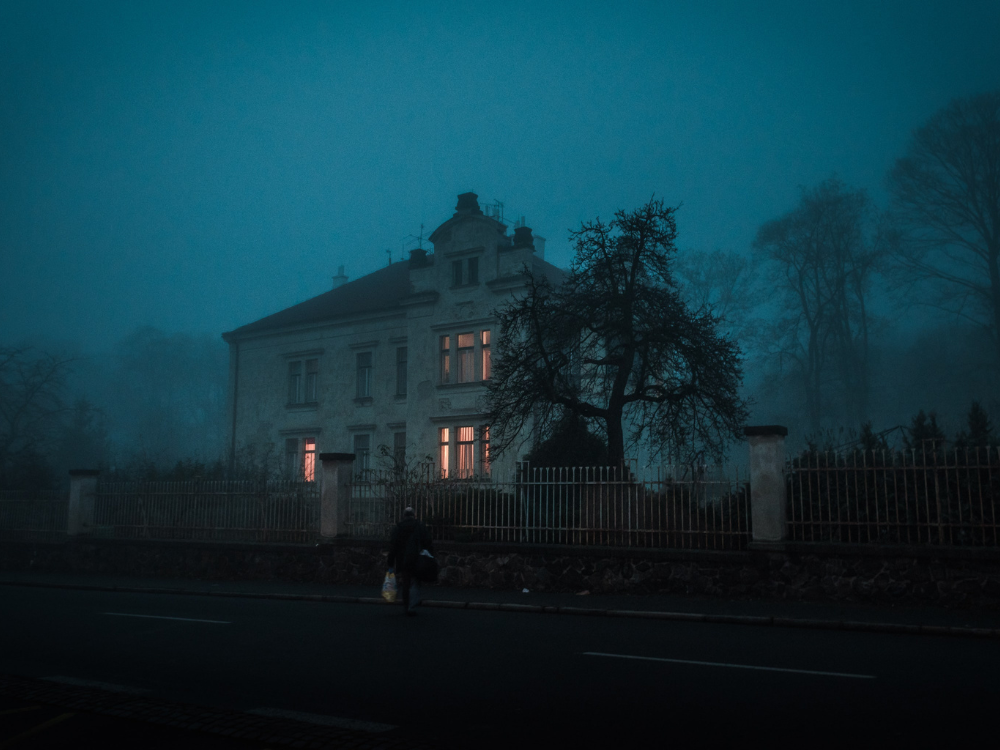 2. Bring some exciting props
Props can bring your Halloween image and portrait photography to the next level. Smoke bombs are easy to find and add magic to your pictures. When the sun breaks through the trees, and you use a smoke bomb, the columns of light will look spectacular. You can also use a smoke bomb to fill a jack-o-lantern for a photogenic outcome.
Clothes, hats, or various other objects like books, a broomstick, some fairy lights, or a skull can be convenient in sparking creativity. If you get lucky enough, a black cat might cross your path (unless you are stuck somewhere in a photo studio).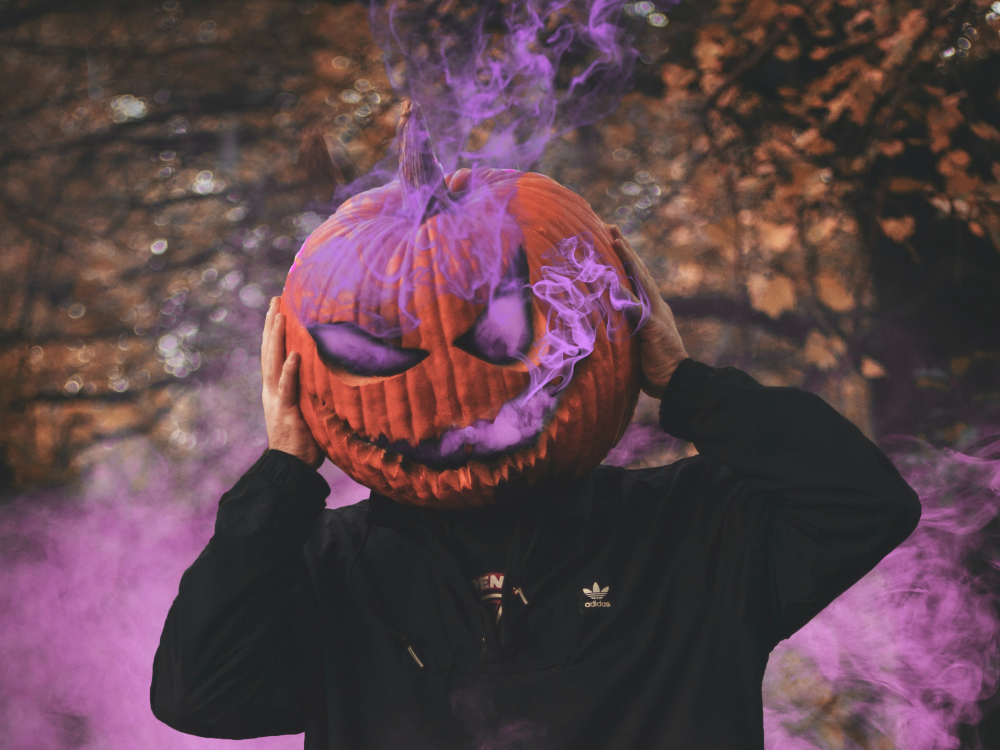 3. Play with image editing to obtain a dark and creepy atmosphere
Many vibrant colors will be optional if you want to achieve that unique Halloween image vibe. However, if you desaturate the stains from your photos, the image will look old and eerie. If some colors stand out too much, you can use the Selective Color tool in Photoshop to diminish them.
Another option is to desaturate the blues and oranges. This will keep some color in your image but remove the most intense hues, which is excellent for portrait photography. Other image editing tricks include adding dust, cracks, and scratches to your pictures. By using Blending Mode in Photoshop, you can create glowing lights. Fake smoke is also easily made in Photoshop, and you will find dozens of tutorials online. If you are shooting in a studio, you can always use a neutral background, remove the background and add a context of your choosing.
See how we use post-production to create stunning images.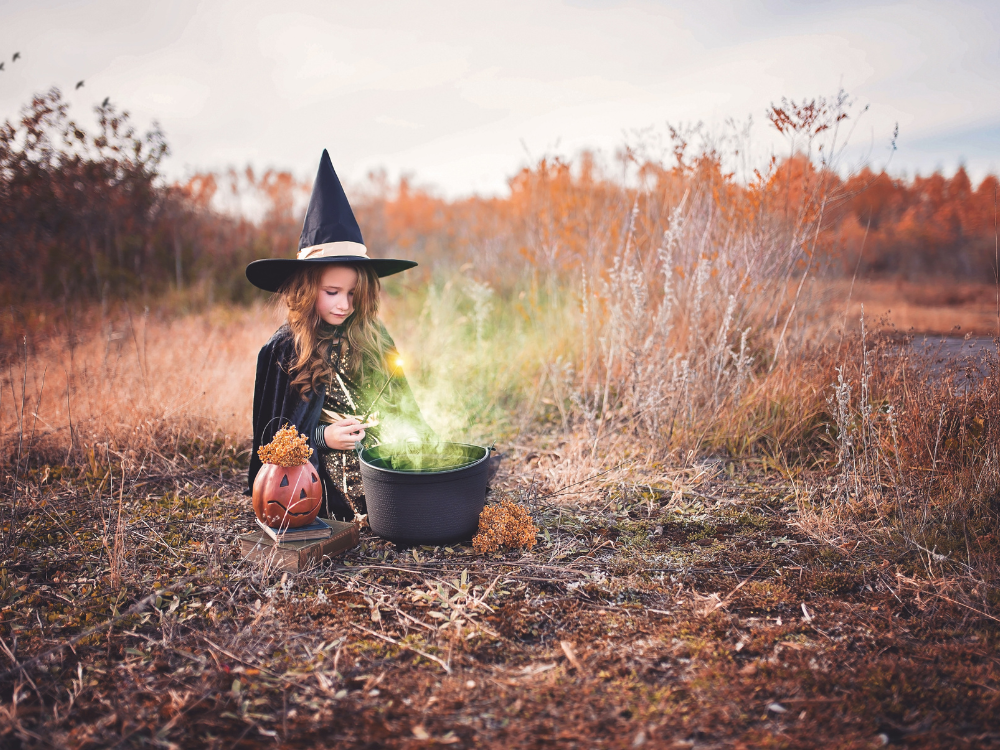 4. Use unusual angles for your Halloween images
The weirder the angle, the more interesting your picture will look. Forget about composition rules for a second – and try something unexpected. Shoot from a shallow angle to make your subject look much taller, or shoot from a distance to include your subject in a scary context.
A wide-angle lens will help you get a distorted effect in either of these two examples.
5. Experiment with low-light photography
When playing with low-light photography, there are many aspects you can control. For example, low shutter speed, high iso, open aperture, or even low light conditions are worth exploring. Use candle lights, fairy lights, or LED and have your model play around with them to find the best ways to capture the portrait you have in mind.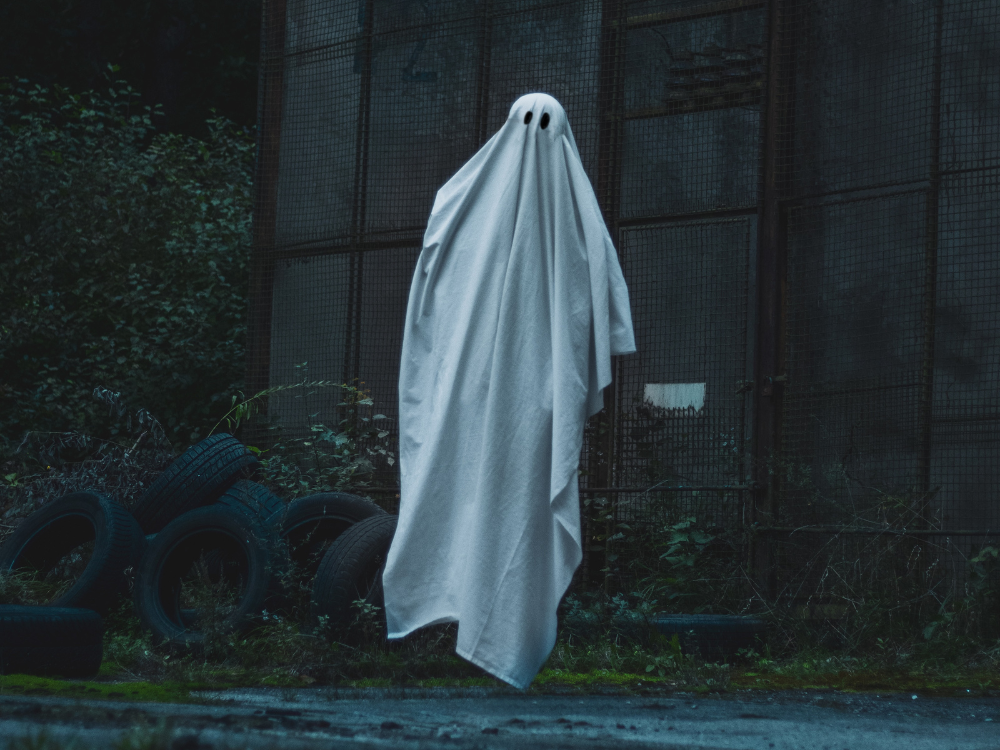 Conclusions
Halloween images can be fun, scary, cute or spooky, or even a promising idea to include on your list of holiday marketing ideas. The secret is to have good planning, communicate openly with your model and make the best of lights, props, and image editing. Do not be scared to experiment and play around to create a diverse collection of Halloween images that your audience will definitely enjoy.
If you would instead work with a professional team to get your Halloween images just perfect, don't hesitate to contact us.
Related Posts: